The future of Indoor Air Quality is now! Hydroxyl air cleaning technology has finally been harnessed with green, sleek, quiet, and compact air purifiers fast becoming the 'go-to' solution in facilities across the world.
This is the ideal solution for indoor air quality classrooms, offices and clinics – unlike many ventilation systems, including hepa filters, low noise levels mean that they are almost invisible in any room don't impact on your work, meeting or class discussions!
Wellisair is a patented device that uses an all-natural, yet disruptive and innovative, technology to disinfect, purify and clean the air and surfaces using nature's own secrets. Compact and cheap to run, this is the ideal solution for offices, reception areas, waiting rooms and classrooms.
Indoor Air Quality is the key people want to get back to work safely.
The super-compact Wellisair unit uses nature's hydroxyl air cleaning technology to generate and expand Hydroxyl Radicals (HO) that by oxidation eliminate up to 99.9% virus, bacteria, allergens, moulds, odours, and VOC's (volatile organic compounds).
Superior Technology by Wellisair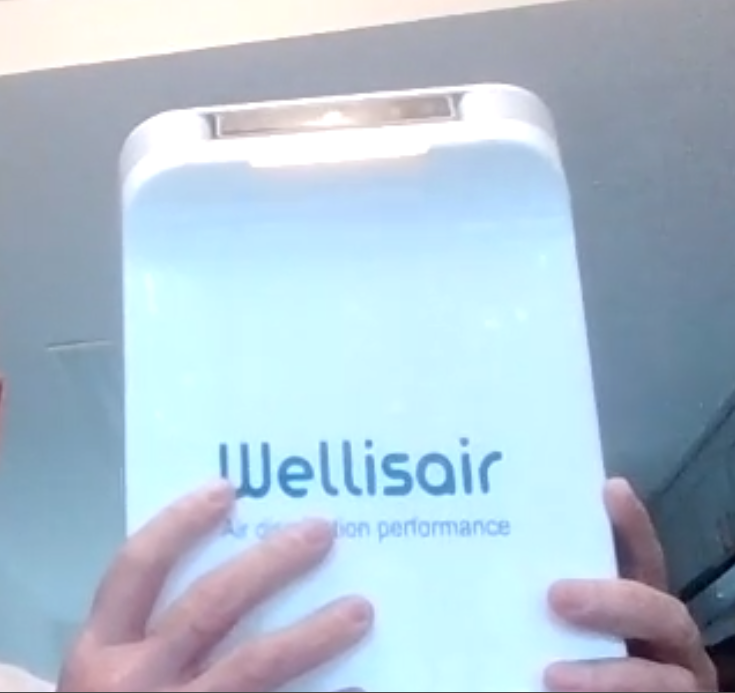 Wellisair is a patented device with a disruptive and innovative technology to disinfect, purify and clean the circulating air and all surfaces, many that we cannot even reach in normal cleaning, with nature's own mechanisms.
Wellis air uses advanced OH Generation technology that effectively generates and expands Hydroxyl Radicals (HO) that by oxidation substantially eliminates virus, bacteria, allergens, moulds, odours, and VOC's (volatile organic compounds) up to 99%
Newsflash 01 Nov 2021: Panasonic Announces Verification of Inhibitory Effect of Hydroxyl Radicals Contained in Water (Nano-Sized Electrostatic Atomized Water Particle) on 4 novel Coronavirus (SARS-CoV-2) Variants
WellisAir Uses This Technology – Available in Ireland Right Now – Keep Your Office, Classroom, Restaurant Open and Safe – For Less Than The Price of a Coffee/day!
OH is all-natural, Military Grade Technology – its official!
Using OH (Hydroxyl radicals) in the atmosphere, the US Military and NASA developed this technology in the 1970s for CBR (Chemical/Biological Radiological) defence systems. It was commercialised in the 1990s in certain European hospitals and showed excellent results in the reduction and removal of harmful substances such as bacteria, germs and viruses, harmful gases, mould, VOC's and respiratory allergens that cause a contaminated environment.
That is Laboratory Grade Disinfection of Air and Surfaces!
Eco-friendly Wellis Air, 100% free of artificial additives and chemicals, purifies the air and disinfects surfaces using nature's proven technology! These compact and quiet (<3dB) units remove 99.9% of hazardous elements including viruses, bacteria, and mould!
Wellis Air disinfection purifiers generate the natural air purifying substance OH, at an eco-friendly level of clean area (8,000,000~10,000,000/CC), by adopting nature's air cleaning methods.
Microbial Decontamination– Pathogens (bacteria, viruses), House dust, mites, droppings, Allergens (pet dander, pollen), mold (fungi, spores)
Deodorization Control– Cigarette odour, food, sewage smell, pet odours
Removal VOCs (Volatile Organic Compounds)– Formaldehyde, toluene, benzene
To assess the importance and advantages of VOCs and VOC sensors compared to for example CO2 sensors in assessing classroom air quality (recently mandated by law in Irish classrooms to mitigate spread of Covid-19) the following might be of use https://www.bapihvac.com/application_note/voc-sensor-capabilities-and-limitations/
Air Quality Indicator
A VOC sensor installed on any ventilation system measures the levels of volatile organic compounds and helps optimise indoor air quality while minimising energy use. There are over 5,000 VOCs that are expelled by breathing, cooking, bodily functions, perfumes, deodorants, paint, cleaners, cigarettes, office supplies, etc. Monitoring VOC's as opposed to simply measuring CO2 equivalent ppm (parts per million) alone is a much better indicator of indoor air quality, especially in stuffy classrooms in winter.
WellisAir units have built in VOC sensors which were seen as more appropriate for the application than CO2 sensors.
There are no artificial additives of harmful chemicals involved in the process. The system fundamentally works on the basis of circulated air, UV light and a patented citrus based essence that performs nature's magic to disinfect the air and surfaces in offices, rooms, clinics and school rooms alike. This all happens in a matter of minutes.
THERE ARE NO FILTERS TO BE CHANGED OR CLEANED ON A WEEKLY BASIS! The only maintenance for Wellisair units is to replace the cartridge, it's simple, after about 3 months or 90 days of constant use (a blue alarm will tell you when to order) and anyone can easily and conveniently change the cartridges with no special tools required.
Wellisair can run the unit 24/7 without worrying about electricity cost.
Wellisair can clean air for 24 / 7 and uses about 3.6 Watts per hour and gives a wide coverage for it's compact size (100-300m3)
You can enjoy top performance if you replace the cartridge every 3 months, but don't worry about marking your diary, the intelligent air quality monitor will tell you when the cartridge needs to be changed … in case you don't run the units 24/7.
Wellisair is an extremely versatile product that purifies and disinfects spaces and surfaces in a wide range of sectors.
Across the world and across industries, indoor air quality will be the key to opening, and staying open, for the foreseeable future.
Wellisair eliminates viruses and bacteria, reduces Volatile Organic Compounds (VOCs) and microbial contaminants from both the air and surfaces, especially those inaccessible for general cleaning, and can be used for many different applications:
Health sector:
Multiple tests have been carried out on different pathogens in order to clarify the effectiveness of the Wellisair as a disinfection agent, especially as the technology has been kept under wraps for so long.
Results generally show 90-99% elimination rates in healthcare settings such as waiting rooms, operating rooms, emergency rooms, beauty centres, residences, dentists, etc.
Concerns include, for example: Virus: Rotavirus and Respiratory Syncytial Virus (RSV) Bacteria Gram "+" Bacteria Gram "-"
Food industry:
From the beginning of the food production cycle, purifiers are required to eliminate VOCs and odours derived from farms, fertilizers, processing or packaging centres, etc. Wellisair was proven to reduce around 95% of Formaldehydes, ammonia and atmospheric particles derived from these activities in a relatively short time.
Food preservation:
The OH oxidation effect eliminates components such as Ethylene which are present in the air and accelerate the ripening process of fruit and vegetables. This process allows food to be stored longer and thus avoiding any possible economic losses caused by food spoilage. In fact, in informal tests, oranges were allowed to sit in place for weeks – they never went mouldy as happens in a house with normal ventilation. No, these oranges simply dried out – no mould / smell / insects
Laboratories :
In the same way that Wellisair is an optimal accessory for use in the health sector, such as in analysis clinics or for any research projects dealing with viruses and/or bacteria, it can also be used to create a clean and pollutant-free space for an optimum environment in which to obtain accurate test result
Veterinary Clinics:
There can be a high concentration of microorganisms found in veterinary centres due to all the animals that come to visit and Covid has been seen to travel on the dander and hair of pets although they may not be necessarily a transmission vector. That is why incorporating a Wellisair unit in these facilities will help to avoid any possible contagion among various animals or from animal to human, whilst keeping the visiting rooms clean, disinfected and odour free.
In fact, testing has shown that infections in poultry were reduced significantly and also increases chick mortality.
Informal tests have also shown that, with racing pigeons, the lived longer and performed better when OH technology was used in the coop! It as so good in fact, that one avid pigeon racer did not want to share the secret as to why his pigeons were winning all the time, and refused to help this writer with a testimonial! Now that's competitive!
Buildings (private sector):
People spend a up to a third of their working life at work. At least they did pre-Covid and many are hoping to return as soon as it is safe to do so. Placing a Wellisair in offices, administrative areas and canteens can provide a cleaner, safer work environment that is free of allergens, viruses and bacteria, offering an excellent and improved air quality for everyone, and passive disinfection for surfaces.
Everyone, employers and employees alike, want to return to work safely … and stay open this time!
Public spaces:
There are numerous spaces where high concentrations of people tend to congregate including for example shopping centres, cinemas, public buildings, waiting rooms or gyms. Wellisair can be used to eliminate food, food waste and locker room odours while keeping surfaces free of allergens and pathogens for a cleaner and more pleasant space.
People need to be confident that they are safe when they venture out.
Schools and creches:
One of the main places where higher rates of infections historically tend to occur is in educational centres. This makes it especially critical that we keep classrooms, school bathrooms, and dining areas free of pathogenic microorganisms or any possible allergens. Wellisair technology has been tested on Coxsackievirus (hand-foot-and-mouth) with a 99% elimination rate in just a few hours
Everyone, even the kids, want to return to work safely … and stay open this time!
To Order, or to know more please comment below and we will get back to you, or
please contact us using: our Contact Page, email at info@supergreensolutions.ie, or call 353 87 6635839